Interview with Mammal Club's Adam Hiles plus review of their secret gig, June 2012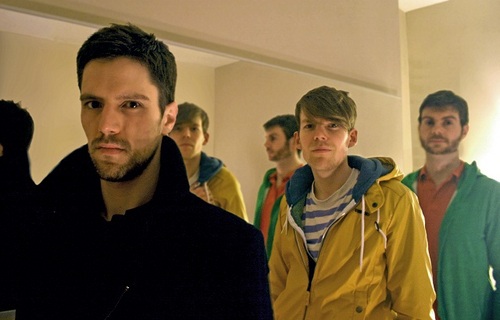 Everyone was at Evolution Emerging on Friday. Although there was some exclusivity –  such as the chance to be one of fifteen people in Blank Studio's Polite Room at various points through the night to see the likes of The Lake Poets perform  – there was nothing quite on the level of Mammal Club's 'secret' gig the next day, at an undisclosed location in the Toon. This was the first time in 2012 that the North East's favourite prog-experimentalists had played in their home town and it was also the first opportunity for local fans to see them as a three piece, following the departure of Keyboard player Calum Howard.
An invite only event, I headed off to find 'the room' following some sketchy directions I had received in a text from guitarist Adam Hiles. I was under strict instructions not to say when or where as "…this is like the 4th one we've done in the same place and it's getting perilously close to the time it should probably backfire." On arrival the 25 or so people received a vinyl (painted cover!) copy of new single 'Painting' before shuffling to the back of 'the room' (hushed mutterings of "health and safety death trap" from some of the more discerning guests) while Mammal Club took to their make shift stage behind the railings of some rickety stairs and played a brilliant 25 minute set.
Front man Wilson Picket is a delight to watch. Having previously played the guitar and sampler as well as singing, Wilson now plays keys too in the new line up. With a guitar around his neck, fingers glued to the sample pads and his famous massive fringe bobbing away, he belted out some of Mammal Club's best known tracks including 'Otter' and ''Towards You With Lust' from last year's Au E.P. His vocal range is always impressive and his ability to seamlessly keep time on the pads, play the bass notes on keys, sing, play guitar and skip and dance his through songs is a spectacle rarely seen in bands today.
I chatted with Adam after the show and he explained that "We made a conscious effort to try and strip back and reinforce certain sounds when the line up changed – Wilson took on keys duties, Colin and I both started using samplers, basically to cover the bass frequency, in with that me and Wilson had to start adding octaves to our guitars to make sure the thickness was there…the transition has taken a bit of time but now we're confident in the playing and the freedom in sounds available to you is amazing, it has really helped define us and continues to be really exciting."
All clever stuff really. With latest release Painting Adam noted that "we wanted to go a bit more extreme than we had in the past and magnify certain things we'd shown on Au. Lyrically it looks at school and your memories of it, looking back when your older there's an intensity of feeling you had which you now kind of mourn…the title is a direct reference to that, everyone made paintings at school but all of them in different circumstances."
The band have been busy selling their wares across the country, with positive reviews coming from their shows at Brighton's Great Escape Festival, Sound City in Liverpool and London's Old Blue Last but the North East might have to wait until next month even to see the lads do a full gig. Details of this will likely be confirmed in the next week or so. Over the Summer Mammal Club intend to head into the studio and continue to explore new sounds and although they have no fixed plans for releases, they did note that an album would be on the agenda in the not too distant future.
The night ended with Wilson explaining that although he was happy with the vinyl single, he's always preferred MP3s and the moment when you first open and smell them. The crowd were then all escorted outside to have their phones and memories wiped – 'Men In Black' style – to ensure the wareabouts of 'the room' remains secret.